Personal Make-Up Workshop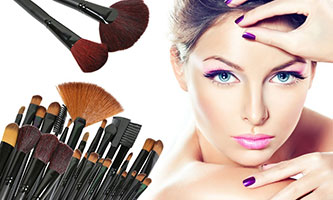 Workshop Fee :
Rs. 6,900/-
Booking Amount :
Rs. 3,000/- to Block Your Seat.
Balance of Rs. 3,900/- will be taken on the day of workshop.
Next workshop : 23rd April 2017.
Timings : 12:00pm to 4:30pm.
Course Duration : 4 Hours
What we teach you
Introduce you to products like moisturiser, Primer
Demonstrate a 5 minute make over
Talk about skin type and How to choose your foundation
Party / Day Make up Demonstration includes the following
Perfecting the skin with moisturiser & primer
Shading & highlighting of the face
Introduce you to eye primers& its benefits
How to get the perfect eye liner and how to correct a crooked one
Application of Kohl & how to make it last longer
How to make your lipstick last longer
Application of concealor & foundation
Application of powder & how it helps the skin
Application of eye shadow & its blending
Lash curling & application of mascara
Getting your blush right
The secret to application of perfect lipstick
Model for demonstration is picked up from within the batch. We make sure we demonstrate over different face shapes & skin type.